2005 Iron Butt Rally
NEWS
---
Stay tuned to this page for frequent updates to Rebecca's progress.
---
Start at the bottom to read this page in chronological order
---
Wednesday 9/7/05 (the end plus five)
Voni Glaves posted a gallery of photos from the Denver Finish:

Rebecca sMiles ...(as in 10,335 sMiles)

H. Marc Lewis posted this gallery, with excellent captions. Check this out.

Rebecca's smile gets specific mention.
---
Monday 9/5/05 (the end plus three)
---
Saturday 9/3/05 (the end plus one)
The books are closed on the 2005 Iron Butt Rally, but information will likely trickle in for a few days, as participants and organizers trickle home.

More pictures:
---
Friday 9/2/05 (the end)
It all ends today. All riders must arrive in Denver, Colorado by 8am to avoid penalty assessment, and before 10am to avoid disqualification.

Rebecca's 9:00am update:
Rebecca said she arrived in Denver at 3:30 this morning, and that her scoring (and riding effort, obviously) earned her a Silver ranking. The levels were Gold, Silver, and Bronze, so her score must've been in the middle or middle-upper third. I'm sure details will follow. Mike Kneebone (Iron Butt CEO) told her that she had an amazing third leg and did very well. She said his praise was so uplifting that she felt ready to get on the bike and go again.

There were rumors of massages being offered at the hotel, so Rebecca was going to go searching for one, hoping to drain the rest of the tension from her body and then go get some sleep.

The Finisher's banquet is tonight, then it's back to the real world....

Read the Official IBR Leg 3 Rider Scorecards. Congratulations to all riders....

Read the 9/2/05 Official IBR update.

More pictures:
---
Thursday 9/1/05 (final day)
Read the 9/1/05 Official IBR update.

Rebecca's 11:00am update:
Rebecca stopped in Des Moines, IA long enough to pick up a bottle of contact lens solution and pose for a photo. She laughed when I mentioned that many comments had been made at how relaxed and happy she looks at each checkpoint, so she attempted to scowl at the camera, but frankly, I'm not buying it. She's just too happy.

She headed to Sioux Falls, SD and then planned to head for Denver and the finish line.

A scowl, poorly concealing a grin.



Rider and ride, both looking forward to a bath and some rest.
---
Wednesday 8/31/05 (day 10)
Read the 8/31/05 Official IBR update.

Rebecca's 7:32pm update:
Rebecca has enough points to finish and is basically heading back towards Denver. Plans include getting enough sleep and trying to dry out. Luckily, weather in the Midwest looks amazingly clear, considering what Katrina could have provided.
---
Tuesday 8/30/05 (day 9)
---
Monday 8/29/05 (day 8)
Today marks the end of Leg 2. All riders must arrive in Buxton, Maine by 9am to avoid penalty assessment, and before 11am to avoid disqualification. Bonus packets for Leg 3 will be handed out at 11am, and riders may depart immediately upon receipt.

Read the Official IBR Leg 2 Rider Scorecards.

Here's Rebecca's personal Leg 2 Scorecard.

Read the 8/29/05 Official IBR update.

Read the Official IBR Leg 1 Bonus List.

Here's another IBR-related blog.

Update on Rebecca:
Mike Evans of Saratoga Springs, NY, made the drive to Buxton, ME to welcome Rebecca and all the riders and help out wherever he could. Mike chatted with Rebecca and let her power/recharge her laptop from his car, and to also get some rest on a real seat. Rebecca said Mike's presence was a huge morale boost, and she also appreciated that he polished her faceshield and brought her some snack/power bars for the trip.

When Lisa Landry (Rally Mistress) said the theme this year was water, I don't think anyone anticipated that it would be taken to this extreme: Rebecca says "my waterproof jacket, my waterproof riding pants, and my waterproof boots all leaked during the hardest rain I've ever ridden in. I actually poured water out of my boot! Luckily, it wasn't windy."

After leaving Buxton, Rebecca's plans were to head to New Brunswick, as she needs to accumulate just under 32,000 more points before returning to Denver. Luckily, Rebecca says she got six hours of sleep before the beginning of Leg 3...it looks like she'll need it.

photos courtesy of Mike Evans
Another gallery, another sighting.

Grease pencil advice for Rebecca, observed at the Maine checkpoint, i.e. "too late."
---
Sunday 8/28/05 (day 7)
---
Saturday 8/27/05 (day 6)
The second leg started Friday night at 9pm, and the riders' destination is Buxton, Maine, on August 29th.

Read an unofficial statistical analysis of the Leg 1 rider standings data.

Read the 8/27/05 Official IBR update.
---
Friday 8/26/05 (day 5)
Today marks the end of Leg 1. All riders must return to Denver by 7pm to avoid penalty assessment, and before 9pm to avoid disqualification. Bonus packets for Leg 2 will be handed out at 9pm, and riders may depart immediately upon receipt.

Read the 8/26/05 Official IBR update.

Rebecca's 8:32pm update:
Rebecca's route took her through Washington, Oregon, and down the Pacific Coast to I-80 and then back to Denver. She said the redwoods and the ocean were beautiful and that she had a great time. "Everything is all happening so fast and I really need to work on my riding efficiency for the next leg." So far, she has ridden 4029 miles and has 19480 points. The only bike issue was that another turn signal bulb went out. So far, so good.

"I'm pleased to be surrounded by such incredible people." Rebecca lost her ignition key (more on that in a second) and Paul and Voni Glaves found a key blank and had her spare duplicated while she slept at the checkpoint in Denver.

The lost key is, indeed, quite a story. The rally book clearly stated that the Battery Point Lighthouse in Crescent City, CA would only be accessible until 1:30 due to low-tide, but Rebecca showed up at 1:45. Tom and Rosie Sperry arrived late, too, so Rebecca and Tom shucked their riding gear as best they could and waded across to the lighthouse. Getting there, they realized that they had forgotten their rally flags, so they had to wade back to get them. Once they were in position again, they realized that they had no film left in the cameras. It took another trip over and back to finally snag the bonus picture. Then, they still had to cross the water once more. By this time, the water was hip deep!

This excursion left Rebecca with wet clothes to complete the rest of the first leg. Ugh. Being tired, wet, and grimy, led to increased fatigue and diminished mental alertness. She missed a later bonus because of this.

Oh, and the key? It was in her pocket with the flag, so when she pulled the flag out, the key dropped to the ground and was never found.

"I got back to Denver early and tried to get some sleep, but I kept imagining that was hearing sirens, but when I got up to investigate, there was nothing there. I'll plan my route for Leg 2, and then decide if I need more sleep or whether to push on.

Thanks to everyone who is following my progress and wishing me well! I'll try to provide more frequent updates."

Read the Official IBR Leg 1 Rider Scorecards.

Here's Rebecca's personal Leg 1 Scorecard.
---
Thursday 8/25/05 (day 4)
Read the 8/25/05 Official IBR update.

Apparently, Rebecca lost her key, but since she carries a spare, this shouldn't be a big deal. There's probably a good story to go with this though....

Read the Official IBR Leg 1 Bonus List.
---
Wednesday 8/24/05 (day 3)
Rebecca's 8:16am update:
"In NW US. All is well!"

So, at least now we know which way she went. According to Bob Higdon's musings, going NW meant just as many bonus points, but fewer miles. Sounds like a good strategy to me.

Read the 8/24/05 Official IBR update.

Ira Agin's Denver Start Gallery.

Here's a poem, written by Judy Kaplan, titled "Which way to ride".
The poem highlights a lot of the possible bonus locations for the first leg, and gives a view of what the riders are faced with.

Gossip:

The first leg of the rally seems to have a theme of water, so bonus sites at places like lighthouses have been rumored.
A posting on the LDRider mailing list suggested that Mike Kneebone, Assistant to the Rally Mistress, was following the progress of the riders using the Star-Traxx page, and was curious just which rider(s) were arriving in the vicinity of Key West, FL.
---
Tuesday 8/23/05 (day 2)
Here's a photo of Rebecca getting registered.
Here's a photo of Rebecca's fuel cell bracket getting welded in the parking lot.
---
Monday 8/22/05 (day 1)
Read the 8/22/05 Official IBR update.

A comment from Jim Shaw, who is on-location in Denver:
"The IBR had one of the quickest and most orderly starts this morning at 10 am exactly. It took about 4.5 minutes to get all 90 bikes on the road. Denver police helped by blocking traffic so the riders had a safe exit from the Doubletree parking lot.

This morning, virtually all of the riders I met were in great spirits, and really chomping on the bit to get going. There's a very special camaraderie here - aggressive competitors are genuinely friendly toward each other."
---
The 2005 Official Iron Butt Rally poster:

---
Sunday 8/21/05 (day -1)
Read the 8/21/05 Official IBR update.

Jim Owen's satellite tracking information has been updated.

Read a newspaper article about Paul Taylor, the 2003 IBR winner.

I found a gallery of photos from the hotel parking lot in Denver, including a shot of our favorite rider.

Rebecca's update:
"After the Saturday excitement/stress about the fuel cell, I found that I had a turn signal bulb out (not on the lens I'd replaced). Then, after my odo check, I noticed some fluid on my right boot. I couldn't find any leaks though, and it didn't smell like oil. It bugged me all afternoon, and just before dinner I went out to the bike to check my oil, and sure enough - the level was low just a bit. So, I did what any smart 1100RS rider would do - I went right to Paul Glaves to run it by him. :) Paul was relaxing after working as a tech inspector all day and I told him that we could look at it in the morning, but he insisted on looking at it right away. The diagnosis: the head is leaking at the valve cover gasket. Or something like that. Regardless, Paul says that it will take him 5 minutes to fix Sunday morning. *whew*

So fortunately, all of the issues that I've had have been able to be resolved, but it has me rattled a bit that I have had to deal with so many things here in Denver. I really just wanted to get here and be done with the bike. I'm really grateful to Bill and Paul for their help. I'm also very grateful to Dale for the loan of the 910s."

Rebecca's 8:00pm update:
"Just got the rally packet."

Rebecca's 10:30pm update:
"Roughing in the route now. The options are scattered, with no clear choices. I am not going for the sucker bonus :-) This is fun."
---
Saturday 08/20/05 (day -2)
Rebecca's update:
"Tech inspections and registration today. Basically, a LOT of standing in lines. Someone mentioned that it was like being in the Army. The nice thing about standing in all of these lines is that you get to meet and talk to the people standing next to you. I met some new friends today and got to catch up with some old ones. DeVerne did my inspection and he looked over the bike, the cell, checked my VIN # against that listed on my insurance, checked my helmet, etc. It was the most intensive tech inspection I've ever been through, but also possibly the smoothest since I've been preparing for it for so long and I was ready. Then I went out for a short odometer check - it felt good to take a ride.

After the odo check I was directed to a short seminar, then I signed some forms, got my t-shirt, pin and hat, and I was videotaped giving a release statement. The final line took me right to Mike Kneebone himself - he and his staff looked over my forms, double checked everything, and pronounced me registered. Whew!

If all of this sounds like a big deal, it is. This is The Big Show. The long lines and waiting don't bother me at all. It's incredibly exciting, I feel so privileged to be here, and I'm having the time of my life.

Tonight I'll have dinner with friends, but I've been warned that tomorrow is a 'business day' with final preparations, mandatory riders meetings, the opening banquet, and hopefully a good night's sleep. We start our 11 day adventure on Monday morning at 10:00 Denver time."
---
Friday 08/19/05 (day -3)
Rebecca's update:
"I left Milwaukee early on Thursday and had a good day of riding, but was tired from not getting enough sleep Wednesday night. The ride was also frustrating due to an audio problem with using the custom earbud speakers with the mp3 player and the radar detector.

I took a nap at 5pm, which helped me identify that the audio problem was operator error...the radar detector has two volume controls, and I had basically muted the sound by adjusting the knob with a gloved hand. Afterwards, I had the best ride through western Nebraska and eastern Colorado...It is SO gorgeous here!

This morning, I awoke to a phone call from Dale Wilson (IBR Tech Inspector) saying that he had a pair of PIAA 910 driving lights to loan me, and could I be down in the parking lot in 10 minutes. A couple bolts/nuts/etc. were needed and a trip to Home Depot was planned, and then someone noticed that one of the fuel cell mounting bracket welds was broken! Luckily, the fuel cell manufacturer, Bill Macavan was at the hotel to help with the tech inspections, and he made a quick phone call and summoned a local welder with a truck to come fix the weld in the parking lot! This was all arranged before I could return from Home Depot. How's that for service?

Somewhere, I also lost a turn signal lens, but the local dealer has one and I'll run and pick it up today. I also want to look for a pair of vented gloves, because they'll make riding much more comfortable in the heat.

Riders have been arriving by the minute, and everyone has been asking each other,"So, are you ready?" I suppose people are just nervous or tense. Anyway, there's a roped-off section of the parking lot marked "2005 Iron Butt Rally parking only" and it's filling up fast. It's thrilling to be here!"
---
Wednesday 08/17/05 (day -5)
Rebecca's update:
"I am leaving in the morning for Denver and the start of the 2005 Iron Butt Rally. Mainly I'm just anxious to get on the road and I am looking forward to the 1000 mile ride tomorrow to calm my nerves, and to think about the 11 day adventure that I have ahead of me. I spent today wrapping up some jobs, made a visit to BMW Milwaukee, and doing the last few things on my checklist.

Tonight, I will have dinner with my mom, pack the bike, take the garbage out and go to bed. The time since finding out that I got a spot in the rally has flown by, and I have had so much support and I am so appreciative - especially to my sponsors and to all of you who have taken the time to help along the way or who have just taken the time to wish me well. I feel like you're all riding with me."
---
Sunday 08/14/05 (day -8)
---
Thursday 08/11/05 (day -11)
---
Here is a list of the required checkpoints for every rider:
Starting point:
August 22nd (Day 1)
Denver, CO
First checkpoint:
August 26th (Day 5)
Denver, CO
Second checkpoint:
August 29th (Day 8)
Buxton, Maine
Finish:
September 2nd (last day)
Denver, CO
---
---
The Iron Butt Rally "The World's Toughest Motorcycle
Competition" is August 22nd through September 2nd, 2005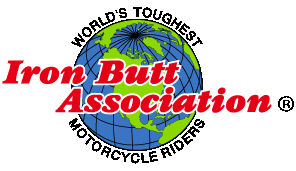 Iron Butt Rally Background info
---